JAZZ/WorLD
Alaturka
Beau Bledsoe - guitar/oud
Rich Wheeler - tenor sax
Jeff Harshbarger- bass
Sait Arat (Istanbul) - darbuka

Alaturka was formed in 2009 with the vision of creating an equal "auditory handshake" between two musical cultures, American jazz and Turkish classical music. Founder and director Beau Bledsoe joined with Istanbul darbuka virtuoso Sait Arat and two of Kansas City's most acclaimed jazz musicians, Rich Wheeler and Jeff Harshbarger, to form a quartet in which both cultures are treated with equal respect. The collaboration has resulted in an intriguing new sound that has garnered the ensemble multiple invitations to perform throughout the U.S. and abroad.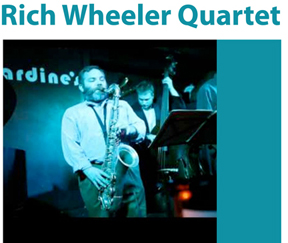 JAZZ
Rich Wheeler Quartet
Rich Wheeler - tenor sax
TJ Martley - piano
Jeff Harshbarger- bass
Danny Rojas - drums

JAZZ
The Peoples Liberation Big Band

Carl Bender-saxophone, Jake Blanton-guitar, Stephanie Bryan-trombone, Kevin Cerovich-trombone, D.J. Clem-lap steel, P. Alonzo Conway-saxophone, bassoon, percussion, Brad Cox-piano, Shay Estes-voice, Nathan Granner-voice, Jeff Harshbarger-bass, James Isaac-saxophone, clarinet, Ben Leifer-bass, Bill McKemy-tuba, Jeffrey Ruckman-piano, Mark Southerland-saxophone, stritch, Forest Stewart-horn in F, Rich Wheeler-saxophone, John Wirt-trumpet, Sam Wisman-drums

The People's Liberation Big Band of Greater Kansas City is a musicians' collective formed for the purpose of performing new music.

DANCE
The Owen/Cox Dance Group

The Owen/Cox Dance Group is a professional ensemble of nine dancers and nine musicians brought together by dancer/choreographer Jennifer Owen and composer Brad Cox in order to bring their original music and dance collaborations to Kansas City audiences. Juxtaposing a wide range of traditions and styles, Owen and Cox create worlds of sound and movement ranging from collisions of comic absurdity to unexpected revelations of beauty. The Owen/Cox Dance Group is comprised of a diverse yet close-knit group of Kansas City dancers and musicians deeply committed to performing contemporary dance with live music.

CLASSICAL/FLAMENCO/TANGO
Beau Bledsoe

Beau studied guitar at the UMKC Conservatory of Music where he received a Master of Music. He continued his professional career in Kansas City playing with jazz, classical, and Latin musicians. Beau has worked extensively with the tenor, Nathan Granner, soprano, Victoria Botero, classical violinist, Gregory Sandomirsky, Argentine Tango quintet Tango Lorca, the Guthrie Theater of Minneapolis, the Bach Aria Soloists, new music ensemble, newEar, Owen/Cox Dance Group, and the Kansas City Ballet. He co-founded the independent record label Tzigane, which is home to six of Beau's own recorded projects. Through his many diverse projects and ensembles, Beau has performed in Mexico, Argentina, Spain, Germany, France, Switzerland, Turkey, Russia and almost every state in the United States. Most recently, Beau has become an avid student of Ottoman Classical Music and the Turkish Ud.

JAZZ/EVERYTHING
Jeff Harshbarger

Voted Kansas City's Best Bassist by Pitch Magazine in 2007, Jeff Harshbarger has had quite a varied career. A prolific composer and bandleader in his own right, he has recorded and performed across the globe with such varied groups as Forever Tango, Nathan Granner, Milt Abel, Tango Lorca, Angela Hagenbach, Krystle Warren, Snuff Jazz, Brad Cox, Ghosty, The People's Liberation Big Bang of Greater Kansas City, Jazz Discharge and Forrest Whitlow. In 2004, he co-founded Tzigane Music, an artist-run collective and record label. He has received The Kennedy Center's Betty Carter Fellowship, the Steans Institute Fellowship, and is a recipient of the 2008 Professional Development Grant from the Creative Capital Foundation.

CLASSICAL
Granner Bledsoe Duo

Close friends and musical compatriots with a fearless attitude toward classical music, Nathan Granner and Beau Bledsoe are earning standing ovations everywhere they go.

These two young masters have consistently challenged audiences throughout the world with programs that include new commissioned works, innovative transcriptions of classical and popular song as well as genre-bending renditions of American Spirituals and traditional Flamenco.

CLASSICAL
Christian Fatu

Born in Bucharest in 1983, violinist Christian Fatu is recognized as one of today's most exciting young violinists, praised for his virtuosity, technique and bright artistry. He has presented numerous solo recitals for audiences in Austria, Germany, Belgium, Luxembourg, Switzerland, Hungary, Italy, Tunis, Israel, Japan and the United States. He has won over 25 prizes in various international competitions including the First Prize at Kingsville International String Competitions, Texas, USA (2008); First and Grand Prize at "Remember Enescu" International Violin Competition in Romania (2000); First Prize at the "Rovere D'oro" International Music Competition in Italy (1996); and First Prize at "Citta di Stressa" International Music Competition in Italy (1995 & 1994). The Murnauer Tagblatt in Germany praised his "wonderful virtuosity as well as perfect technique."

CLASSICAL
Victoria Botero

Victoria Botero, is a classically trained soprano who is equally at home singing opera, musical theatre and cabaret. Her "beautiful crystal clear soprano" delighted audiences of Quality Hill Playhouse in their cabaret production of Christmas in Song. And the St. Louis Dispatch, KDHX Radio and RiverFront Times all hailed her recent performances of Adina in L'elisir d'amore with Union Avenue Opera. Victoria's current collaboration with master guitarist Beau Bledsoe is an exploration of the intersection of classical and world music with tangos, flamenco, German and French lieder and songs from the Ottoman Empire combining into a fascinating evening of musical pleasure. Victoria's other credits include performances with Light Opera Oklahoma, Blacksburg Master Chorale, Des Moines Metro Opera, Tulsa Opera and Lyric Opera of Kansas City.

CLASSICAL
Lida Kaminska

Accordion virtuoso Lidia Kaminska began playing the accordion at the age of eight, and by the age of twelve was giving solo performances in Holland, Austria, and Germany, as well as her native Poland. After receiving her Masters degree from the Chopin Academy of Music in Warsaw, Poland, she came to the U.S. to study at the University of Missouri Kansas City. At the age of 25 she became the first (and only) person in the United States to ever receive a Doctorate in Accordion Performance. She is represented by Astral Artistic Services in Philladelphia, PA and concertizes throughout the U.S. and Europe.

ARGENTINE TANGO
Tango Lorca

Merge old world tango aesthetics with a sinuous texture of jazz, flamenco and classical music and you have the immediately distinctive sound of Tango Lorca. Formed in 1999, this fiery ensemble has created a fresh and continually growing body of original compositions and arrangements equally suited for the dance hall or the concert stage. While evoking an undoubtedly Argentine sentiment with classics from the "Golden Age", they also create new, innovative works with a timeless sense of beauty. Tango Lorca plays their music with a deep understanding of tradition as well as an obsessive desire to evolve the art form to new plateaus.

CLASSICAL
Sandomirsky Bledsoe Duo

Gregory Sandomirsky - violin
Beau Bledsoe - guitar

The Sandomirsky-Bledsoe Duo was formed in 1998 with the intention of creating and recording new repertoire for the unique combination of guitar and violin. Although common in many folkloric cultures such as South America and Eastern Europe, the duo of guitar and violin rarely perform on the concert stage. Since the release of their CD "Café Sarce", the Sandomirsky-Bledsoe Duo has received much critical acclaim as well as successful concert tours internationally. Most recently, they performed at the Oldenburg Chamber Music festival in Germany as well as successful dates in and around Paris, France.

JAZZ
Bill McKemy

Musicians, by trade, are lifelong students. It's a simple fact that respected Kansas City bassist, bandleader, and composer Bill McKemy embraces with every fiber of his being. And as he carefully explains, you always have to be ready for that next lesson — no matter the source or the circumstances.

JAZZ
TJ Martley

Twenty-seven year old pianist T.J. Martley is quickly becoming one of the top call pianists in Kansas City. Since graduating from William Jewell College in 2007, he has shared the stage with national icons of jazz Bobby Watson, Sean Jones, Javon Jackson, Brad Mason, Elliot Mason, Dave Pietro, Matt Otto and Wycliffe Gordan. Known for his eclectic be-bop style, the pianist's improvisations are reminiscent of Lennie Tristano, Bud Powell, and Keith Jarrett. The pianist can be seen regularly at local jazz hot spots with Kansas City jazz artists such as The Goombahles, Crosscurrent, Megan Birdsall, Steve Lambert Quartet, Rich Wheeler Quartet, Shay Estes, Bryan Hicks Quartet, Stan Kessler and Stephanie Laws.